The Grand Conversation on ebooks: Patty Jansen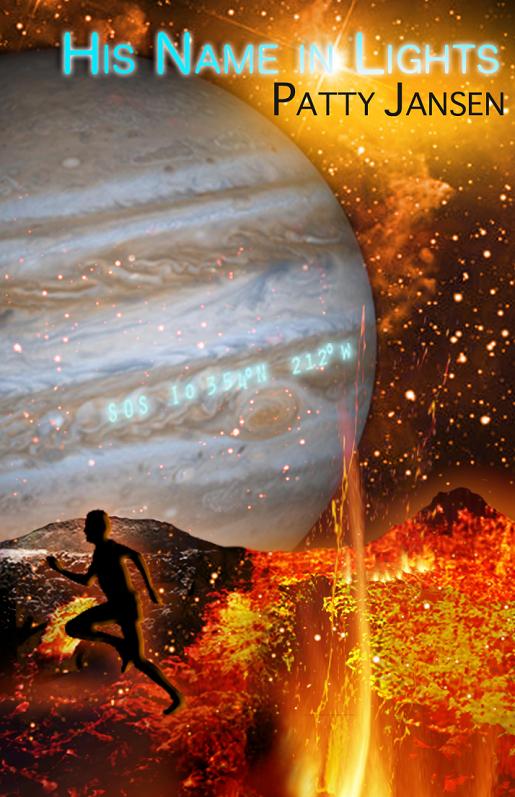 Patty Jansen is an Australian writer who has been selling fiction, with various degrees of success, since 2005, and non-fiction since 1998. She has run an online bookshop and a small non-fiction publishing business. Her most significant fiction successes have come recently, with a first place in the Writers of the Future contest, for which she will go to LA later this year, a sale to the Universe Annex of the Grantville Gazette (which was republished as the ebook His Name in Lights), and a sale to Redstone SF. Patty is now a member of SFWA, and while she hopes to sell a novel to a big publisher one day, she also believes there are many roads that lead to Rome.
Patty has work in the publisher slush pile right now, and as such, her insight into how the big guys have changed the way they approach new talent is essential reading:
---
"The ebook revolution – a perspective from a new writer"
Picture the holy grail for a new writer: a contract with a big-name literary agent and a book deal with a major publisher.
With that goal in sight, you send out query after query, receive rejections and then some requests for material, which languish in various in-boxes for months before being rejected.
OK, the problem is with the book. You're not quite there yet, and besides, you have grown much as a writer since you wrote that work. Easy, you write a better book. Book completed, you do the same thing. Send, send, repeat, repeat, until you have three or four books out in the market.
Meanwhile, you're doing markedly better in the field of short stories, so you know that the improvement in your fiction is not just determined by the size of your head.
But as time progresses, you find that instead of getting better responses, you're getting less response from the publishing industry to your novel queries. The vast majority of your queries go unanswered. It is not until you read agents' end-of-year reports that you realise something is seriously awry in the publishing world. Whereas agents signed a few new clients in previous years, last year, they signed … none.
So, you may conclude, the lack of success is not just dependent on the quality of your work. And this is not a very good time to try to sell something to a publisher.
The publishing industry is nervous over electronic books. There are matters crucial to readers and writers that are as yet unsatisfactorily resolved, things such as royalties, regional rights, and ebook pricing. People are buying books online, and bookshops are struggling. In the face of impending turmoil, the publishing industry has cut down risk-taking (in other words: signing new authors).
What's a new author to do?
On the other side of the spectrum, a lot of your friends decide to go the independent way. But you understand that self-published books on Smashwords or Amazon have a bad name. You've heard the talk. Anyone puts just anything out there, and so much of it is crap. You agree with some of those statements. A few years ago, you've seen the belligerent publishing-is-a-big-conspiracy type writer put books on Amazon. You know this person from a workshop. You know the standard of writing and cringe. You understand the need for gatekeepers to ensure at least a minimal standard of quality: properly formatted, proofread, and edited. You want a real publisher.
Except the current uncertainty of the industry means that instead of cracking open a bit further, the gate is closing in your face.
Patience, experienced folk say. The industry will recover. You're sure it will, in some way, give or take five or ten years. Then again, you may not want to hang around for five years to wait until this happens. Heck, you and a good number of your writing friends are on the wrong side of thirty (or forty or fifty) and do not really have that long. You do not want to be Cinderella and finally sell that elusive first novel in your seventies. Moreover, some writers, published and unpublished, are having success with e-publishing their own work.
You have:
some writing credentials.
a reasonable online profile.
more material than you'll ever be able to send to every agent you'd like to snatch.
some already-published material you could sell as shorts, or fashion into an anthology.
And you think, heck, why not? After all, the time when having self-published meant Certain Death By Pitiful Stares is about to go the way of the dodo.
---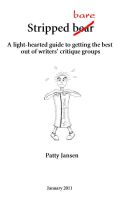 Patty Jansen has two books available on
Smashwords
–
His Name in Lights
and 
Stripped Bare – A Light-Hearted Guide to Getting the Most out of Writers' Critique Groups.
Patty also maintains an informative blog. Her most recent short story sale was to the forthcoming Australian vampire anthology Dead Red Heart.
---
The Grand Conversation on ebooks will run here at 
www.jiraiya.com.au
until 
February 28
. If you'd like to contribute a guest blog post, email me at 
shane@jiraiya.com.au
.

Posted in: writing